OVER THE PAST FEW DAYS,/---->
I have researched and discovered the term DANDYISM.
Whilst reading a rather delightful, and openly expressive document called S Magazine, I came across an article about Sebastian Horsley, an artist I'd never heard about, and one who has made an impression, but one I do not care to remember.
http://www.youtube.com/watch?v=iFPJQdkblpc
PRICK BASICALLY.
A brief outline about him would be a pompous English, wealthy, supposedly reformed drug addict, who crucified himself for art, in the Phillipines; which was filmed by Sarah Lucas and photographed by Dennis Morris. In a rather blasphemous attempt at creating enough contraversy to get himself noticed for 10 minutes.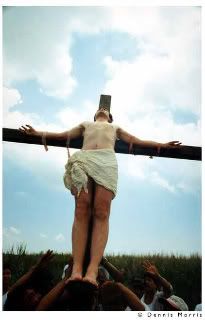 He is clearly one of those artists who has no talent, only one to shock and bemuse. The Telegraph described him as--- 'Horsley hopes that "my existence is a work of art", but the joke is that he's a show-off who can't do anything. '
His attitude is one that I depise and his arrogance really grated me. 'I THANK THE LORD EVERYDAY THAT HE MADE ME THIS BEAUTIFUL.'.. really?
Now my work is involved in beauty, and I'm intereted in the issues with Body Dismorphia.. and if anyone has it... its Horsley. Hes ugly inside and out.
The fact he is an open misognist, [hater of women] envoked the urge to go chop off his dick.... even so his clever way with words has made the label on himself look acceptable.....
"A MISOGYNIST IS A MAN WHO HATES WOMEN AS MUCH AS WOMEN HATE EACH OTHER. A HOMOPHOBE IS A MAN WHO HATES FAGGOTS AS MUCH AS THEY HATE THEMSELVES."
His ideas are so warped and distorted but he seems so sure of himself that you start to believe him. He is definately someone who if you met him, you would really want to hate him in huge amounts, but his flare and charisma together with his manipulating narration would quickly have you doubting yourself.
Although Horsley is clearly a very fucked up soul, with no morals or worth of any other human being other than himself; it did make me aware of the word DANDY.
A dandy is a person, a born unbeliever who mocks everything. Who openly and obviously lives against society and bourgeois values; bearing pretension and disdain, yet [in my opinion] is just bitter that they do not belong.
"TO BE EXTREMELY WELL DRESSED IS, I SUPPOSE, A FORM OF DISGUISE AND A MEANS OF SELF ASSURANCE." [Gerald Murphy]
This is a particularly interesting debate. Do people dress to fit in with the masses? Or do people dress in a way to knowingly contradict this? Is it only for the 'well dressed'? Surely that is a matter of opinion. What is well dressed? wearing expenisve clothes.. wearing socially or fashionably acceptable clothes? Being 'different.?'
In the term of the Dandy, these people would consisder the clothes of the aristocracy well dressed, yet they have a blatant disregard for the aristocrasy and hope to live their lives opposed to theirs.
It all seems confused to me.
In conclusion----
Is it true to say that peoples identity can be transferred in their clothes? If someone was to change our appearence with their own style and tastes would we feel different?
If we feel that we look good in what we wear then surely the idea that it is a means of self asurance is correct. We feel confident. People who have definate style or an aversion to wearing anything that someone else might be wearing.. does this mean they are self assured or arrogant>? Or maybe we cannot mearly keep this labelling so ridgid.
I need to explore these ideas.